New Patient Centre
Welcome to our family friendly practice, which feels anything but clinical. Our warm atmosphere will help you feel right at home.
The First Visit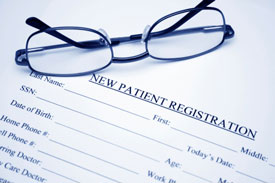 Whether you call or come through the door, a receptionist will introduce you to the clinic. We recommend that you come in 10 minutes early to complete a form. Here's what you can expect next:
Your chiropractor will perform a consultation and examination.
We may refer you for X-rays (x-ray facility at the Marple clinic) and a neuroscan.
The Second Visit
We will report to you what your X-rays (if clinically required) and wellness score reveal; and with the information gathered at the examination whether or not you are a candidate for care. If we believe you are a candidate for care a course of treatment will be recommended. You can then decide how you'd like to proceed. Treatment can start at this appointment. You have the option to pay as you go.
Regular Visits
When you come in for a routine visit, our receptionists will show you how to do specific spinal warm up exercises before you get adjusted. Some of our patients will also be recommended to see our wonderful soft tissues therapists alongside your adjustments.
Better Results Faster Workshops (Orientation Workshop)
These workshops are held every Monday evening at either 6:30 pm or 7pm at our Stockport branch and every other Monday evening at our Marple branch. These workshops are provided to give our patients a better understanding of the Spine and Nervous System and how our lifestyle is having a detrimental affect on them. We advise all our patients to attend and to bring their spouse as well.
Expect a fantastic experience when you come and see us! Contact the practice today to schedule an appointment.
CONTACT US »
New Patient Center | Chiropractic Health Centres