New Patient Centre
Welcome to our family friendly practice, which feels anything but clinical. Our warm atmosphere will help you feel right at home.
The First Visit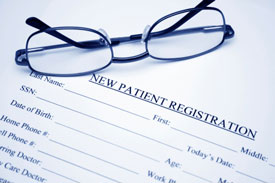 Whether you call or come through the door, a receptionist will introduce you to the clinic. Here's what you can expect next:
Your chiropractor will perform a consultation and examination.
We may refer you for X-rays (x-ray facility at the Marple clinic.)
The Second Visit
We will report to you what your X-rays (if clinically required) and with the information gathered at the examination whether or not you are a candidate for care. If we believe you are a candidate for care a course of treatment will be recommended. You can then decide how you'd like to proceed. Treatment can start at this appointment. You have the option to pay as you go.
Better Results Faster Video
Andrew Jackson talks you through how to get the best results out of your treatment. We have created a video for you to enjoy in the comfort of your own home. We will send you the video by text, and advise that you watch this before your second treatment.
Expect a fantastic experience when you come and see us! Contact the practice today to schedule an appointment.
CONTACT US »
New Patient Center | Chiropractic Health Centres